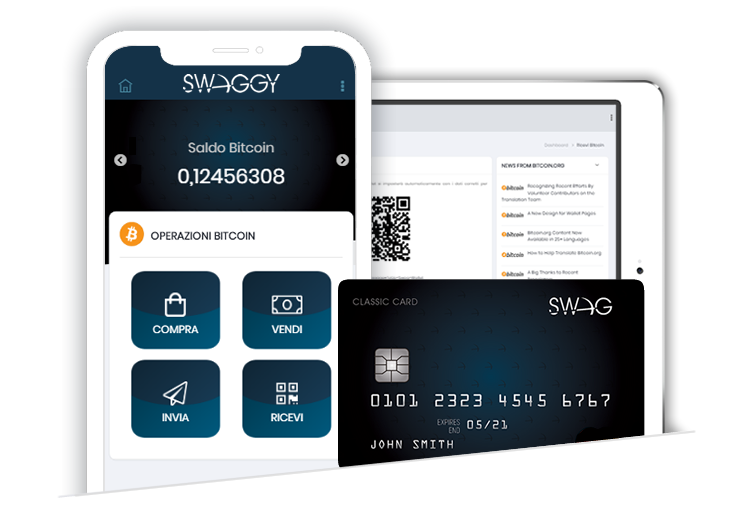 Use your Bitcoins
Send, receive, buy and sell Bitcoin quickly and effectively.
Buy and sell Bitcoin
Buying and selling Bitcoin becomes quick and easy as never before.
Send and receive Bitcoin
With your App you are free to receive or send your Bitcoins in full autonomy and security.
Send and receive Euro
With your new App you receive a new IBAN with which you can make withdrawals or deposits in Euro throughout Europe.
Free to spend
Your new Swag Credit Card is immediately available for your purchases or withdrawals at any ATM.
Activate the Swag App to trade and spend Bitcoin
Activate your new account and apply for your Bitcoin DEBIT CARD now and discover all the opportunities and offers available.
Register on Swag
Register for free on the site and access all the features of the system.
Swaggy Activities
The activation procedure is simple, it only takes a few minutes.
Discover Bitcoin
Everything you need to start using your Bitcoins online and offline.
Manage your Bitcoin
With Swaggy , a new IBAN and the new Master Card you are free to use your Bitcoins.
Swag is waiting for you
Discover it with one of our best Promoters of the month.
[jsoncontentimporterpro url=https://ws.swagyourlife.com/swaggy/userslist parser=twig id=2]
Learn more about Swag – Enrich your life
SWAG is a network dedicated to all those people who simply want to start discovering, earning and using Bitcoin simply and consciously alongside the best experts in the field. We are a community of true fans of the Crypto, Bitcoin and Bitcoin Mining world who share one great goal: to progress as protagonists and grow together with the Bitcoin revolution.