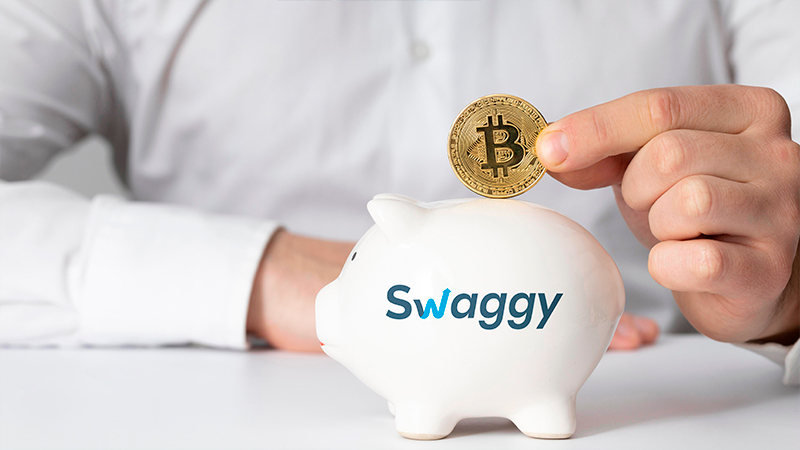 You're wondering too which wallet to open and what advantages you could get?
What features should your wallet have?
Let's try to make order by answering these questions and explaining the benefits of opening a wallet with SWAGGY.
Let's not waste time, let's leave immediately!
What is Swaggy?
Swaggy is the ULTIMATE wallet: The 2.0 wallet you've always wanted!
Constant updates, and the USER-FRIENDLY factor, make it a tool that is always in step with the times, capable of performing, in addition to its more traditional tasks, all those additional functions that you would expect from a cryptocurrency wallet.
Swaggy is above all much more.
Through this article we will talk about all its features, from the main ones to the most complex ones without leaving aside the benefits related to the Swaggy world.
Let's start with the management of cryptocurrencies for your Bitcoin (BTC) and Ethereum (ETH). Thanks to this simple and intuitive wallet you can:
Buying, selling, receiving, sending and trading BTC;
Buying, selling, receiving and sending ETH;
Track your transactions easily;
Send and receive wire transfers;
Enable integrations such as Sentyment, a fundamental tool for market analysis, and Coincover, the digital protection to protect your wallet.
Why BTC and ETH?
Swaggy, like many cryptocurrency wallets, gives you the ability to buy and sell, send and pay.
So what really differentiates this tool from the others?
Why do we consider it unique and innovative?
Why has it become such a successful phenomenon?
The answer, as well as in its ease of use, is in its integrations and partnerships: the real icing on the cake.
Sentyment's "smart" analyzes.
Sentyment is an innovative service created by Nexid Edge and integrated in 2021 by Swaggy.
But what does Sentyment consist of?
This product, thanks to algorithms based on artificial intelligence, studies the cryptocurrency market by providing an accurate analysis of possible trends, in order to help you create a strategy to make the most of the amount on your Swaggy wallet.
Although the Sentyment processes seem very complicated, the display of this service is represented in a very intuitive way, thanks to the use of colors:
RED: Analysis predicts a downward trend for cryptocurrencies;
YELLOW: Sentyment judges the market pending;
GREEN: It is the right time to buy cryptocurrencies such as BTC and ETH.
Also, being a "smart tool", any recommendations are suggested based on your previous behaviors.
This represents an added value of great importance both for those who have recently opened a wallet and for those who know how it works but do not want to waste too much time in often extremely technical analyzes.
Coincover, SWAGGY's protection.
One of the greatest risks when it comes to wallets is probably the possibility of losing access keys or being subject to hacker attacks and, all this, can lead to unquantifiable damage at economic and personal levels.
Protecting your savings is therefore essential.
This is where Swaggy's interesting integration comes into play: Coincover.
Coincover is the "shield" that secures your wallet and its contents from a series of risks.
This digital guarantee helps you defend against phishing, hacker attacks, lost keys or computer problems.
Secure all your crypto-savings on your Swaggy wallet. y
This guarantee against theft allows you to feel comfortable and peaceful, with your wallet, away from possible dangers.
Take a look at this QuiFinanza article to find out more about Coincover.
Conclusion
Integrations make this wallet a hi-tech jewel in all respects, able to help you by analyzing the BTC market thanks to Sentyment and always staying safe with Coincover.
If you are looking for a safe, transparent, reliable and practical wallet, your choice can only be Swaggy.